Happy Thursday! I'm so glad to be linking up with these lovely ladies for Girl Chat today, where we discuss one of my favorite topics: guilty pleasures:
Say Yes to the Dress
I've been obsessed with this show for YEARS. WAY before I was engaged! While the best part of the show is silently (or not so silently) judging others for their dress choices, I will say that the show did lead me to the designer for my own wedding gown!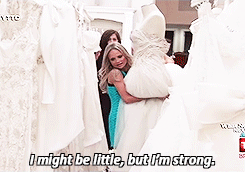 Real World/Road Rules Challenges
I spoke a little about this in a post earlier this week, but it's true. I love me an MTV Challenge show. I really wonder what the cast does for jobs, since many of them do Challenge after Challenge (or maybe that is their job?), but I'm going to keep watching as long as they keep making them.
Gummi Bears
Not the cartoon show–although I did like that as a kid. This is hands-down my favorite candy. I will demolish a bag of these without thinking twice…until I realize how much sugar I've consumed later. At least they're low fat!
What are some of your guilty pleasures?